I'm a big believer that cardio is more beneficial than lifting weights. There are many other advantages to cardio training, but all you have to do is search online or see the chart below to view how many calories are burned during cardio versus weight training.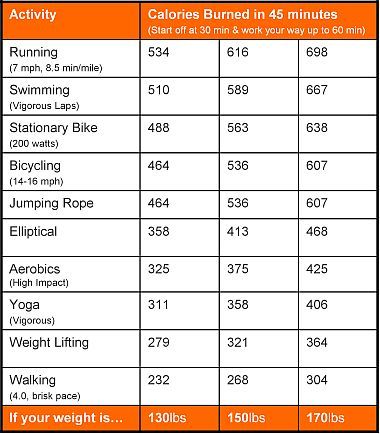 I have a friend who is around my same height but used to be 300 pounds. He's now my weight and everyone always asks him how he lost all the weight. He would reply with a very simple answer–if you burn more calories than you take in, you're going to lose weight. So along with a reasonable diet, he always did enough cardio to ensure he was burning more calories than he was eating.

Cardio Has Other Advantages
Another nice advantage to cardio exercising is that not only are you burning more calories, but you're also circulating the blood more. And as I've mentioned before, this is a huge part in rejuvenating your body. Another benefit is that it heats up your body so that it opens the pores in your skin. So not only are you exercising internally, you're exercising externally by working out your skin. The warmer body temperatures will make you sweat more and make your pores more active. The more you sweat, the more likely it cleans out the pores and allows for new blood to reach the area and build new skin. Your sweat also has natural oils in it like urea and sebum to naturally moisten the skin.

Walk, Run or Bike Your Way To Good Health
There are many ways to have a cardio workout. Taking a walk is something everyone can do at any time in the day. Whether it's taking a nice stroll in the morning, lunchtime, or evening to explore the surrounding area, any form of movement will improve your health. When I first moved to Chicago, the El station was six blocks away. I was not happy that it added ten minutes to my morning commute, but I knew it was part of city living. I would head out the door and pace myself at a comfortable but brisk pace to catch the earliest train. After a while, I didn't mind the ritual since I could enjoy some nice fresh air while taking in the sights and sounds of the city. I would arrive to work with my heart beating at a slightly higher level and the blood flowing through my body. I felt like my mind was more clear and the extra movement made it easier to get my brain moving. I think it's shown that people who live in the city tend to be a little thinner because they walk more than suburbanites who drive everywhere.

Running is another nice cardio workout but I don't do many long distances since my knees are getting soft. The one exercise that I usually do because it's less pounding on my body is biking. I'm on the stationary bike in the colder months and I'm outside on my bike when it's warm. I look forward to the warmer temperatures because I love how a bike allows me to get out and see different places around my home. I usually bike about two or three times a week. I bike each time for 15 minutes. About once or twice a week, I'll also do the stair-master for about 5-15 minutes depending on the intensity.

Every Building Has A Gym
If you say I don't have a bike or belong to a gym, you're in luck. Almost every building in the US has a workout area–it's called the stairs. Just walk up it once and you'll feel your heart beating, body warming, and lungs searching for more air. Those reactions mean you're burning calories and strengthening your heart. If you never made a trip up the stairs, try it once a day. The next week, try it twice a day. The more you do, the more calories you'll burn and the more you'll circulate your blood for staying young.

Next week I'll share my thoughts on weight training and how only a few simple techniques are needed for staying slim.